The Hottest Fitness Trend of 2016
Every year The American College of Sports Medicine releases their prediction of the fitness trends expected to become popular. For 2016, the number one projected trend is not a new fad diet or insane workout routine; it is wearable technology. Specifically, wearable technology with fitness and health tracking capabilities.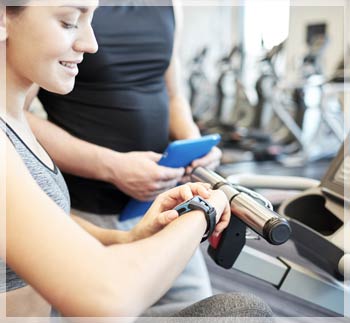 There are many more fitness tracking wristbands on the market today than there were when the Fitbit was first introduced. Jawbone, Garmin, Under Armour and Microsoft fitness trackers all have the latest technology; step counters, sleep monitoring, heart rate monitoring and phone notifications to name a few. These wristbands are a great way to track your physical activity, even when you do not have time for an official workout. Let's examine some of the best features these devices have to offer.
Time to Move
One helpful feature that many of these fitness trackers have is an activity alert, which warns you when you have been sitting for too long. Considering that doctors believe sitting could be as bad for you as smoking, it would be nice to reminded when your health is at risk from a long day behind your desk. This feature leaves you with no excuse to not be physical when you wear it, which is just the type of discipline that some people need to start and remained committed to their fitness journey.
Sleeping Beauty
Sleep monitoring is also a helpful feature, since getting enough sleep is a critical part of maintaining good health. The Under Armour Band, for example, monitors how long and how well you sleep. It is important to understand your sleep patterns beyond getting the required amount of sleep every night. If you are getting the recommended seven to eight hours of sleep that adults should, but you are waking up several times during that eight-hour window, then you are not receiving a quality night's sleep. If you wake up restless in the morning or always get tired in the afternoon, you might need to change your lifestyle to better adapt to the sleep your body needs.
Never Miss a (Heart) Beat
By using a wearable fitness tracker, you no longer have to use a machine to monitor your heart rate. You can keep track of your heart rate elevation while doing yoga, a boot camp workout or running errands. It is especially important to be aware of how your resting heart rate compares to your heart rate while being physically active. You can eliminate workouts that might be dangerous to your health if your heart is struggling to keep up. A fitness tracker will make sure you are not pushing yourself too hard past your target or maximum heart rates.
Siri, Where Am I?
You should never get lost with wearable technology! If you go running in an unfamiliar place, the Garmin Vivofit has a GPS-enabled sports app to track where you go and bring you back to where you started. You no longer have to risk your phone falling out of a Velcro armband because your wearable fitness tracker can give you directions and play music during your workout, all while securely on your wrist.
At North Haven Health & Racquet, you can get plenty of use out of your wearable technology. Monitor your heart rate, count calories burned and play your own music during one of our fitness classes. You can also pull up your food diary to show your personal trainer that you've been sticking to your diet plan. Make your fitness regime more fun by setting goals for yourself and checking in on your progress while working out at our facility. This is one fitness trend we know we can commit to!