5 Last-Minute Gifts for a Fitness Lover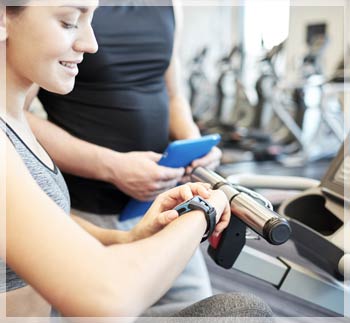 Holiday shopping can be stressful; when time is running out, you feel double the stress! If you're struggling to check the remaining people off your list, consider their everyday interests. Is someone on your list a fitness enthusiast or health nut? We have five last-minute gift ideas that are sure to bring a smile to a fitness lover's face.
1. Fitness Tracker
In 2016, fitness trackers passed smartwatches in sales. According to International Data Corporation information, fitness trackers dominate 85 percent of the wearable technology market. In particular, the FitBit® is even more popular than the Apple Watch! Even if the fitness guru in your life already has a FitBit, the new Charge 2™ with updated features was recently released.
2. FlipBelt®
Have you heard runner friends complain about carrying all their belongings with them on a run? Armbands and fanny packs are bulky and inconvenient for lugging items around. The FlipBelt is a sweat resistant band that you wear around your waist with zippered compartments for your phone, photo I.D., money and car keys!
3. Wireless Headphones
When you're running on the treadmill or climbing the stair master, the jostling movement can cause your headphones to fall out. Your headphones are connected to a source, so it doesn't take much effort to retrieve them. Yet, when the constant motion causes your phone to go crashing to the floor, the earbuds are ripped from your ears! To avoid this annoyance, wireless headphones don't need to be connected to a jack.
4. Fruit Infusion Water Bottle
This makes a great gift for a seasoned athlete or a beginner. Many of us struggle to drink the recommended eight glasses of water a day; some people are too busy to think about it, while others don't like the bland taste. With a fruit infusion water bottle, you can improve the taste of your water so it's more enjoyable to drink. Simply place your favorite citrus into the infusion chamber and fill the bottle with water!
5. Blender Bottle®
Fitness is only one piece of the puzzle to living a healthy lifestyle. To improve your body, you also need to follow a nutritional plan. Rather than scouring recipes for the best foods and nutrients, the Blender Bottle® lets you shake up protein in an instant! Enjoy delicious smoothies and shakes without worrying about a chalky taste; the Blender Ball ensures thorough mixing.
One bonus gift idea? A gym membership to North Haven Health & Racquet! Explore your options with our facility today.