Personal Training
Our trainers are certified and are here to help you reach your fitness goals. We offer a complimentary orientation to point you in the right direction and a variety of different packages to purchase, so that you can accomplish your long-term goals.
Meet Our Trainers

Christa is a certified NASM (National Strength & Conditioning Association) personal trainer with an additional AFFA certification in group exercise and kickboxing. She attained a Bachelor of Science degree in Exercise Science, Human Performance & Nutrition at Southern CT State University and a Masters degree in Physical Education & Sport Pedagogy at Manhattanville College.
Christa knows living a healthy lifestyle is not always easy; but she tries to live out her healthy lifestyle through proper exercise, nutrition implementation and a positive outlook on life. Christa has worked in various fitness settings and has 10+ years of experience working with children and adults of all ages. She has worked as a strength and conditioning coach for a high school, designing programs for individuals and teams. She has also worked at a senior center, and with the general public, training and teaching classes.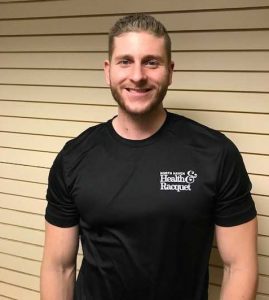 Mike is a certified NASM personal trainer. He graduated from Branford Hall Career Institute in 2009 and has been a certified personal trainer since 2011. As a child Mike was always involved in sports and wrestling and as he got to high school he found a passion for weight lifting. After working out for several years and seeing the results and overall changes he's made to his body and overall health, he really fell in love with training and that led to his desire to becoming a personal trainer. He wanted to help others feel the love and happiness he felt in the results and changes that can be reached with the right help and motivation.
Mike is a very passionate and dedicated personal trainer. He has very good personal relationships with all his clients and he loves to see the happiness they receive when he helps them meet all their fitness goals.
Let one of our personal trainers jump-start your exercise plan. Join today to get started!