Personal Training
Our trainers are certified and are here to help you reach your fitness goals. We offer a complimentary orientation to point you in the right direction and a variety of different packages to purchase, so that you can accomplish your long-term goals.
Meet Our Trainers
Brittany 
Brittany is an ACE certified Personal Trainer with specialty certifications in Post Rehab/Injury Prevention, Weight Management, Nutrition, and Special Populations (ie. pregnant women, senior citizens, and children.) She graduated Gateway College with a degree in Exercise Science & Wellness. With over 10 years of experience, she has helped hundreds of people achieve their fitness goals! Between Brittany's experience, knowledge, and positive personality, she will be sure to make your training experience one-of-a-kind!
"I believe the key to success is to build a motivating, positive, safe, and fun exercise & nutrition plan to get my clients to their goals, watch them grow, and build the confidence to take on the world!"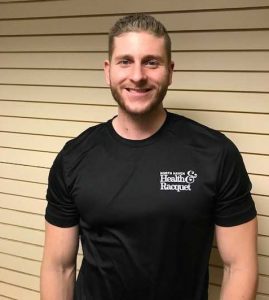 Mike
Mike is a certified NASM personal trainer. He graduated from Branford Hall Career Institute in 2009 and has been a certified personal trainer since 2011. As a child Mike was always involved in sports and wrestling and as he got to high school he found a passion for weight lifting. After working out for several years and seeing the results and overall changes he's made to his body and overall health, he really fell in love with training and that led to his desire to becoming a personal trainer. He wanted to help others feel the love and happiness he felt in the results and changes that can be reached with the right help and motivation.
Mike is a very passionate and dedicated personal trainer. He has very good personal relationships with all his clients and he loves to see the happiness they receive when he helps them meet all their fitness goals.
Let one of our personal trainers jump-start your exercise plan. Join today to get started!